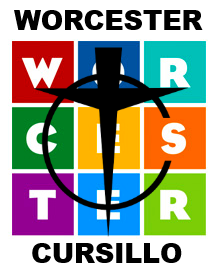 Bring Christ to the World
The Cursillo is an encounter with Christ. When the Cursillo is correctly applied, it can have significant results in the spiritual revitalization of the world in which we live. The Cursillo attitude is contagious. It brings Christ's values to those in one's family, schools, neighborhoods or places of business. The goal of the movement is that Christ be the prime influence in our society. Cursillo aims to instill in each individual that person's consciousness of their power and mission to bring Christ to the world, and to sustain those individuals in the work of Christian renewal.
Women Oct 2017

Immaculate Conception Feb 2017

Women June 2016 at Prindle Pond
What does Cursillo offer? A method to seek & develop Christian: Spirituality Mentality Activity & Community A way to: Discover, Form, Sustain, and Unite people who desire to love Christ and His Church.
What is a Cursillo? Cursillo is a three day weekend experience designed to take everyday people and teach them how to be Christ to the world. Maybe Pope Paul VI said it best: Take a Christian, or a handful of Christians who, in the midst of their Own community, show their capacity for understanding and acceptance, their sharing of life and destiny with other people, their solidarity with efforts of all for whatever is noble and good. Let us suppose that in addition, they radiate in an altogether simple and unaffected way their faith in values that go beyond current values, and their hope in something that is not seen, and that one would not dare to imagine. Through this wordless witness, these Christians stir up irresistible questions in the hearts of those who see how they live. Why are they like this? Why do they live this way? What or who is it that inspires them? Such a witness is already a silent proclamation of the Good News, and a very powerful and effective one.
Who should try Cursillo? The Cursillo is designed for Catholics who desire to strengthen their faith, who want to be closer to Christ, and who want to bring Christ to those around them. Any person who seeks spiritual growth, and who is emotionally and spiritually healthy will be deeply impressed and pleased with the Cursillo experience.
What is the format? Cursillo weekends begin on a Thursday night, and go until Sunday evening. It consists of twenty to thirty men or women The weekend is led by a team of priests and lay people, who give a series of talks, and who guide the weekend activities. The Cursillo is essentially a learning experience. While we do offer periods of reflection and silence, we also have plenty of songs, laughter, discussion, prayer and liturgies to make it a most enjoyable experience. There is nothing dull about a Cursillo weekend. It is a joyous experience in the fundamentals of our beautiful Catholic faith, where everyone learns by sharing within a living Christian Community.
What am I joining? Nothing. Cursillo is not a club nor an organization. There is no follow-up commitment other than the natural desire to be near others who share the same commitment to make Christ present to the world. Cursillo was designed to teach the fundamentals of living the Catholic Christian faith. It has been blessed by each Pope since its inception over 50 years ago!
What Does it cost? Cursillo is a non-profit movement. The cost for the weekend is $195. This is used to cover the expense of meals and the retreat center. All Cursillo workers do so on a totally voluntary basis. While there are basic costs, no one should avoid Cursillo due to the inability to pay for the weekend. You need only make your financial situation known on your application, and the cost will be covered by others who believe enough in Cursillo to give generously.
When are Cursillo weekends held? We have four Cursillo weekends in the Diocese of Worcester each year, two for men and two for women. When we receive your application we keep it on file, and notify you a couple of months prior to the weekend. If you cannot make that particular date, we keep your record on file and notify you of each weekend until it is convenient for you to attend. Applications are processed in the order that they are received.
What should I do if I am interested?
For applications, or more information, contact:
The Cursillo Movement P.O.Box 338 Charlton, MA 01508